The year 2017 proved to be a pretty big one for Disney. (But then again, isn't every year a success for the studio giants?) The production company first struck gold early in the year after the release of the live-action version of Beauty and the Beast, which rose to become the highest-grossing film of 2017. Disney also released the well-received Coco and Thor: Ragnarok and saw the return of Johnny Depp as Capt. Jack Sparrow in Pirates of the Carribean: Dead Men Tell No Tales. 
To wrap up the outstanding year for the House of Mouse, December's The Last Jedi was lauded as one of the best Star Wars films ever made. Oh, and did we forget to mention that it earned a combined total of 1 billion dollars at the worldwide box office? Needless to say, Disney had a great year, and seeing the roster of films poised for a 2018 release, it looks like the good times won't be coming to an end just yet.
So to get you hyped up for this year, check out the most highly anticipated 2018 Disney films that should definitely be on your watch list!
2018 Disney Films That Will Get You Excited for the New Year
Black Panther, February 16
Starring: Chadwick Boseman, Michael B. Jordan, Winston Duke, Martin Freeman, Andy Serkis, Forest Whitaker
After the events of 
Captain America: Civil War, 
T'Challa (
Chadwick Boseman
) is proclaimed the new king of the kingdom of Wakanda. But when Wakanda is threatened by two dangerous enemies, it is up to T'Challa the Black Panther to save his home. He teams up with CIA ally Everett Ross and Dora Milaje to stop these growing menaces for good.
A Wrinkle in Time, March 9
Starring: Chris Pine, Gugu Mbatha-Raw, Michael Peña, Zach Galifianakis, Reese Witherspoon, Mindy Kaling, Oprah Winfrey
One of the biggest 2018 Disney films,
A Wrinkle in Time 
sees teenager Meg Murray
(
Storm Reid
) thrust into a world far beyond her imagination to rescue her missing father. Other than her little brother Charles
and best friend, Calvin,
Murray is guided by three celestial beings who help her travel through the laws of space and time. The film is the latest adaptation of
Madeleine L'Engle
's novel of the same name.
Avengers: Infinity War, May 4
Starring: Almost every actor in the Marvel Cinematic Universe . . . and Josh Brolin
When Thanos
threatens the existence of humanity by stealing the Infinity Stones to complete a powerful gauntlet, the now-divided Avengers must reunite and team up with the Guardians of the Galaxy to stop him. As the first film in an epic two-part finale, this superhero extravaganza is poised to become the highest-grossing blockbuster of the year.
Solo: A Star Wars Story, May 25
Starring: Donald Glover, Emilia Clarke, Woody Harrelson, Phoebe Waller-Bridge, Thandie Newton, and Joonas Suotamo
The Han Solo *solo* film has been riddled with bad press. It all started when original directors Phil Lord and Christopher Miller left the film after citing "creative differences" with Lucasfilm. Since their departure, Ron Howard has taken over directing duties. Oddly enough, the film has already finished shooting, but marketing has yet to begin. Still, that shouldn't hold you off the hopes of a good movie coming your way. The cast alone should be enough for you to want to watch the film.
The Incredibles 2, June 15
Starring: Craig T. Nelson, Holly Hunter, Sarah Vowell, Samuel L. Jackson, Huck Milner, and John Ratzenberger
The sequel to the hit 2004 film picks up exactly where it left off. A new villain called The Underminer forces the Parr family (and Frozone!) to don their super suits once again to stop him.
Ant-Man and the Wasp, July 6
Starring:  Paul Rudd, Evangeline Lily, Bobby Cannavale, Judy Greer, Michael Peña, Michelle Pfeiffer, Laurence Fishburne, and Michael Douglas
Superhero fans, rejoice! Back in August, Disney announced that Ant-Man and the Wasp has officially begun production. The story still focuses on Scott Lang, fresh from the events of Avengers: Infinity War. Lang is given a new mission by Hank Pym to save his wife in the quantum realm. Acting as Lang's partner is Hope van Dyne, who will assume the role of the new Wasp.
Christopher Robin, August 3
Starring: Ewan McGregor, Brad Garrett, Jim Cummings, Haley Atwell
This live-action film is perfect for those who will forever feel young at heart. Ewan McGregor stars as Christopher Robin, who has lost his sense of imagination since growing up. So Winnie the Pooh, together with familiar faces of the Hundred Acre Wood, comes to his rescue to help him restore it.
The Nutcracker and the Four Realms, November 2
Starring: Mackenzie Foy, Keira Knightley, Helen Mirren, and Morgan Freeman
E.T.A Hoffman
's beloved fairy tale is about to get an epic remake. In this adaptation, Clara
is looking for a key that will open a gift from her late mother. While attending her godfather's holiday party, she starts her journey after finding a thread that leads her to a parallel dimension. Now Clara has to travel through the four realms while facing evil in the form of Mother Ginger
to find the key to restore peace in the human world.
Ralph Breaks the Internet: Wreck-It Ralph 2, November 21
Starring: John C. Reilly, Sarah Silverman, Jack McBrayer, Jane Lynch, Alan Tudyk, and Taraji P. Henson
Ralph Break the Internet is the much-awaited sequel to the beloved 2012 film. The trailer, which dropped on New Year's Day, shows the titular character literally breaking through 2017 to 2018. The sequel will see Ralph and Vanellope exploring the Internet as they frantically search for a way to keep the beloved Sugar Rush game safe from being unplugged forever. Amusingly enough, the duo is said to run into the different Disney princesses as well as a variety of Star Wars and Marvel characters.
Mary Poppins Returns, December 25
Starring: Emily Blunt, Ben Whishaw, Emily Mortimer, Lin-Manuel Miranda, Colin Firth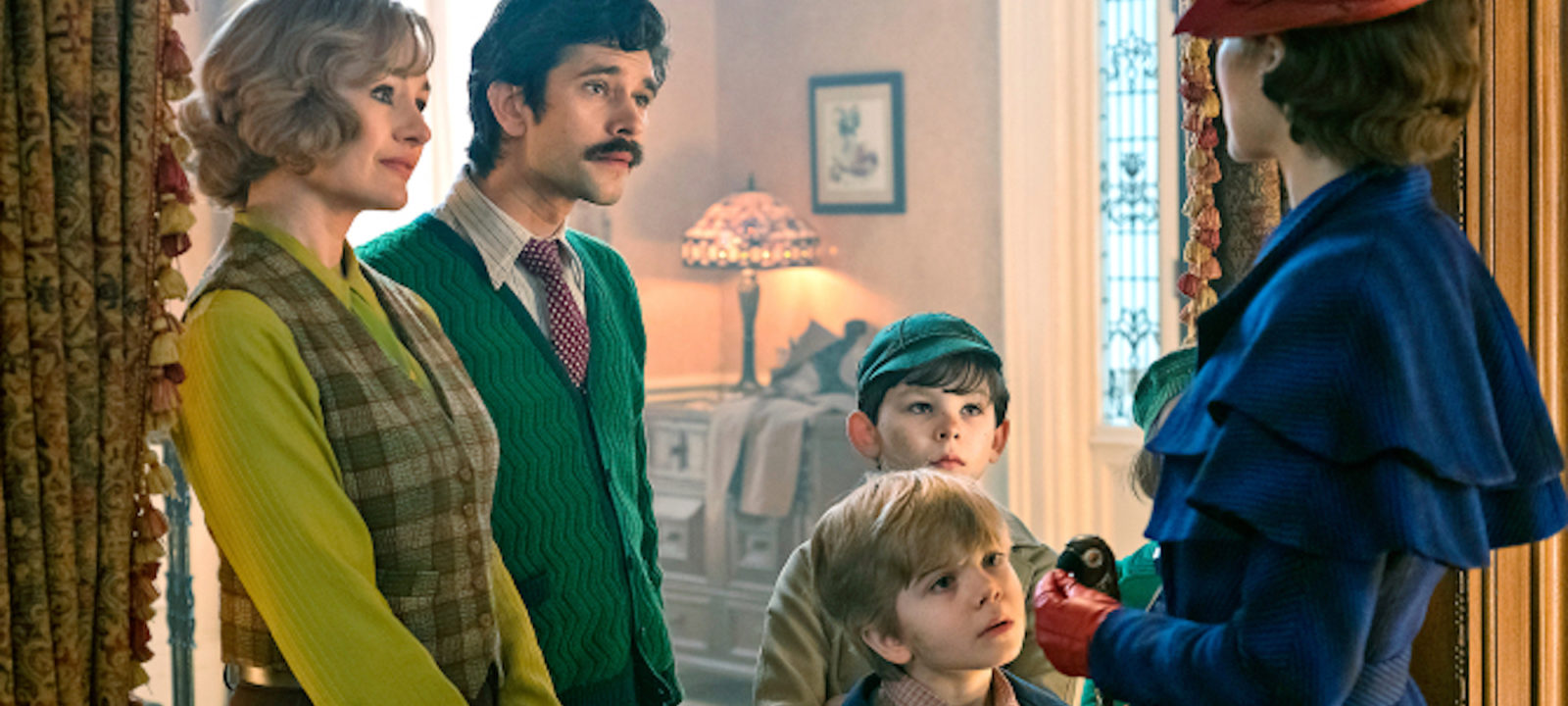 Mary Poppins Returns is a sequel to the 1964 classic that launched the career of Julie Andrews (she won an Oscar for the role too). It takes place twenty-five years after the no-nonsense nanny entered the lives of Michael and Jane Banks. Now struggling in the middle of Depression-era England, Michael is left devastated after the loss of his wife. Fortunately, he has his sister Jane there to help him cope. Sensing that he may need a little help, Mary Poppins (now played by Emily Blunt) pays the family another magical visit.